Jeff Kaplan is recognized as one of the wealthiest video game designers in the video game industry. Kaplan has built an incredible legacy and accumulated a high net worth throughout his years in the gaming industry.
Keep reading for more information on Jeff Kaplan, including his biography, net worth and salary, family, and career.
Jeff Kaplan Biography
Jeff Kaplan is an American video game designer and currently vice president of Blizzard Entertainment, a video game development and publishing company.
Jeff Kaplan was born on November 4th, 1972 in New Jersey, United States. So, in 2020, Kaplan's age is 48. Although born in New Jersey, he was raised in La Canada Flintridge, California.
Growing up, Kaplan loved video games but without programming skills, he decided to pursue other forms of storytelling including film and creative writing. Kaplan has a degree in creative writing from the University of Southern California in 1995 and a Master of Fine Arts from New York University in 1998.
Throughout his career, Kaplan has held several roles besides gaming. He worked for his father's recruiting business and as a writing intern for Universal Pictures. However, after little success with his creative stories, Jeff soon quit creative writing to pursue adventure games.
Jeff Kaplan spent any free time playing video games. His game of choice? EverQuest, a 3D fantasy game that defined the MMORPG genre. While playing EverQuest, he joined a guild called Legacy of Steel which was run by Rob Pardo, the lead designer on Warcraft III. It was Pardo that invited Jeff Kaplan to California and eventually offered Kaplan a job working on World of Warcraft's Quest Designer.
At age 20 in 2002, Jeff started his first year with Blizzard Entertainment as an Associate Game Designer.
Kaplan has held various roles at Blizzard Entertainment ever since. And in 2017, he received the Vanguard Award at the Fun & Serious Game Festival to recognize the cultural impact of his video games. He now lives in Santa Rosa Valley, California.
Did Jeff Kaplan leave Blizzard?
Jeff Kaplan is still with Blizzard as Vice President. However, he did step down as game director for World of Warcraft (WoW) in 2009.
Kaplan shared why he stepped down from WoW in a post on the Blizzard forum:
"I wanted to take a moment to let the community know that I've switched roles here at Blizzard to work on our upcoming, unannounced MMO. World of Warcraft has been such a central part of my life these past six and a half years, and it's success would not have been possible without the tremendous community around it, so I wanted to say thank you to all our players who've shared this amazing experience with us so far. "
Did Jeff Kaplan create Overwatch?
Currently, Kaplan works as the lead designer and game director of Overwatch. Overwatch is a multiplayer first-person shooter game based on a near-future earth. He is the leader and creative vision-holder behind the game, and with a team of video game developers created Overwatch.
How much money does Jeff Kaplan make?
Salary
Jeff Kaplan's actual salary is not publicly available, but his salary is estimated at around $200,000 a year. His salary has contributed to his high net worth.
Jeff Kaplan Net Worth
Jeff Kaplan has led a successful career working at Blizzard Entertainment for over 18 years and currently works as Game Director and Vice President. His estimated net worth is about $12 million, much more than the average American. For comparison, the average net worth for Americans between age 45 and age 54 is $727,500.
Does Jeff Kaplan have a wife?
Jeff Kaplan is married to Angela Kaplan. Kaplan met his wife playing EverQuest, who was also part of the Legacy of Steel guild. The duo became quick friends. At the time, Kaplan assumed that Angela was a man because it was difficult to discern gender with primitive voice communication.
In an interview with Glixel, he explained how he assumed his fellow players were mostly men, "You didn't ask. After EQ, we kept pinging each other. She was one of my best friends. I thought she was a dude."
After meeting up in real life they continued to grow close. Kaplan and Angela were married in 2006.
Social Media- Does Jeff Kaplan Have Twitter?
Jeff Kaplan is not very active on social media. Kaplan does have a Twitter account; however, he hasn't posted anything since 2017. Many people confuse a fan account (@realleffkaplan1) as his own. He also has a LinkedIn account.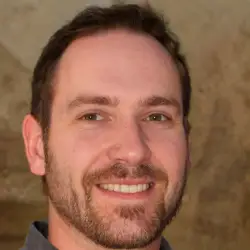 Latest posts by Micheal Renner
(see all)
Evin Ahmad Net Worth, Height, Bio, Birthday, Wiki

- August 31, 2023

Lynne Austin Net Worth, Height, Bio, Birthday, Wiki

- September 10, 2022

Stephen Burrows Net Worth, Height, Bio, Birthday, Wiki

- September 10, 2022